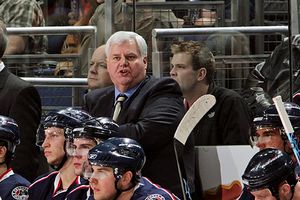 Don't look up Ken, that just may be the Sword Of Damocles hanging over your head. A touch dramatic? Perhaps. But I certainly wouldn't put money on Ken Hitchcock having a job with Columbus if they were to get the doors blown off by the Canucks tonight. The Canucks are fresh off a great road swing where they procured 7 of a possible 8 points, including an OT win in St. Louis that saw them come back from a 3-0 deficit. The Blue Jackets meanwhile are 3-13-7 in their last 20, 6-12-4 on the road and a mere 3 points out of the basement of the Western Conference. After last year, when they made the playoffs for the first time in franchise history, you have to know the ownership and management in Columbus are not pleased. So why does a team with a legitimate superstar, solid secondary players and last year's goaltending surprise end up in this situation? Slumps, injuries and the worst sophomore jinx ever. Hitch's defensively responsible style doesn't seem to be working, and certainly isn't winning over the fans in Ohio. If you factor in the 9 OTL points, it makes the situation even worse.
The Jackets have a PP and PK comparable to the Canucks, it's 5 on 5 where they get killed. Their PK will need to be good, as the Canucks have one of the best PP's at home. Henrik Sedin, the NHL's first star of the month for December, continues to have a career year. He currently sits 3 points behind San Jose's Joe Thornton for the scoring lead. He and brother Daniel lit up the opposition for 48 points in December, and became the first brothers since Maurice and Henri Richard to finish 1-2 in scoring in a month. Roberto Luongo has been, well... Luongo-like as of late. He withstood a Dallas barrage, and battened down the hatches against the Blues, giving the Canucks the opportunity to win in every game save 1 or 2 in the month of December. With the Penguins struggles of late, perhaps we can put all this nonsense about who is the #2 to rest, hmm?
The Canucks need to take that killer instinct they showed on the road and apply it at home tonight. This season, as in years past is littered with tales of a Canucks team that got outplayed by teams that had no business walking out of GM Place with 2 points. They sometimes show up a little soft first game back after a road trip, but with how strong they have played as of late, and knowing GM Place is a rink teams fear to enter once again, Coach Alain Vigneault should have his troops ready to roll tonight.
The news on Kevin Bieksa was worse than expected. 2 severed tendons requiring surgery with a 3 month timeline for recovery. The Canucks also place Ryan Johnson on the IR with a fractured foot. Ryan Kesler has certainly stepped up to try and replace Johnson's tenacious shot blocking. Pavol Demitra has been skating with the team, as has call up Brad Lukowich. Demitra should be back on Monday against the Predators, while there is a possibility Lukowich could draw in tonight. Micheal Grabner continues his conditioning with the Moose.
As bad as the Blue Jackets have played this season, the Canucks can't afford to take them lightly, as they try to stockpile wins in preparation for the pre and post Olympic road nightmare.